Adult Education
Links to other resources: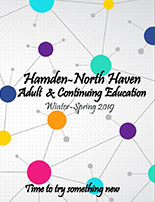 Hamden & North Haven Winter/Spring 2019 Catalog
Learn a new skill, travel, or enrich your life with a variety of classes.
BECAUSE LEARNING NEVER ENDS
Hamden Adult Education is where you can gain the necessary tools to achieve success in the workplaces of today and tomorrow. Let lifelong learning help you achieve success.
The mission of Hamden Adult Education is to develop well-educated citizens who embrace education as a lifelong experience. Take advantage of the many opportunities for learning available to you and let this be a time of learning and exploration for all of us.
To get more information on the classes being offered, locations, dates and times of the classes, please click on the link below, which will connect you directly to their website.